Nevada's nonrestricted gaming licensees reported a total "gaming win" of $909,007,025 for the month of November 2017, according to the state's Gaming Control Board. This amounts to a 2.30% decrease compared to November 2016, when licensees reported a gaming win of $930,405,599. However, for the fiscal year (July 1, 2017 through November 30, 2017), gaming win is still up 2.58%. Regional highlights following this chart from the GCB: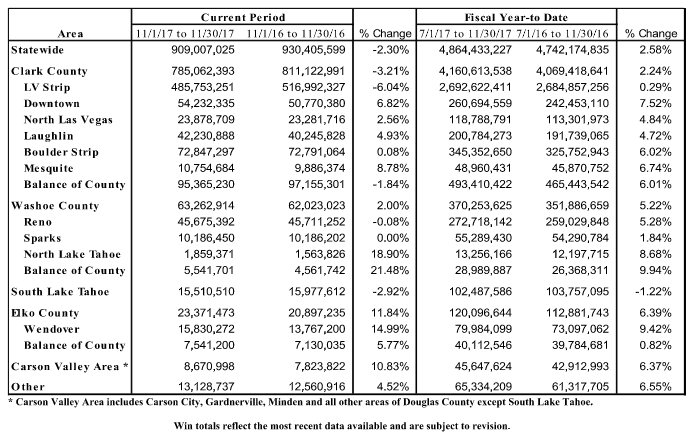 In Southern Nevada, the Strip saw a 6.04% drop compared to November 2016, which is now about even for the fiscal year. At least part of this decrease is likely attributable to the October 1 tragedy, but slot revenue was up while table games – especially baccarat – took a nosedive:
Strip Slots:
Slot Revs: +4.7%
Slot Handle: +2.8%
Slot Hold: +15 bps
Strip Baccarat:
Baccarat Revs -25.0%
Baccarat Drop +2.1%
Baccarat Hold -362 bps (10.0% versus hold of 13.7% in November, 2016 and an LTM average of ~13.4%)
Strip Non-Baccarat Tables:
Non-Baccarat Table Revs -12.8%
Non-Baccarat Table Drop -2.4%
Non-Baccarat Table Hold -162 bps
Strip Total Tables:
Total Table Revs -17.2%
Total Table Drop -0.8%
Total Table Hold -236 bps
Mesquite and Downtown posted Southern Nevada's best gains, with Downtown leading for the fiscal year at 7.52% growth.
North Lake Tahoe saw a massive 18.9% jump in revenue over a year ago – perhaps everybody decided to wait for snow at the casino? South Lake Tahoe, on the other hand, had the weakest performance with a 2.92% decline. South Lake Tahoe is also the only region in state that is down for the fiscal year at this point.
The State collected $49,437,413 in percentage fees during the month of December 2017, based upon the taxable revenues generated in November 2017. This represents an 11.10% (or $6,171,287) decrease compared to the prior year's December, when percentage fee collections were $55,608,700.