The latest statistics from the Las Vegas Convention and Visitors Authority are out, showing mixed results across indicators in September.
As previously noted on our blog, gaming revenue was up about 3% and air traffic also rose slightly compared to September 2016. However, auto traffic was essentially flat and LVCVA's statistics indicate overall visitor volume was down slightly.
Citywide room occupancy was down by 1.8%, and while room rates were up by the same amount the revenue per available room ended up down slightly. Downtown stands out for a big jump in room rates and RevPAR, proving that life is in fact beautiful there.
Convention stats actually reversed trends in previous months, with more shows held but an almost 25% drop in attendance. This was due largely to big shows rotating out of Las Vegas and/or being held in a different month. A more visually compelling partial breakdown, courtesy of LVCVA: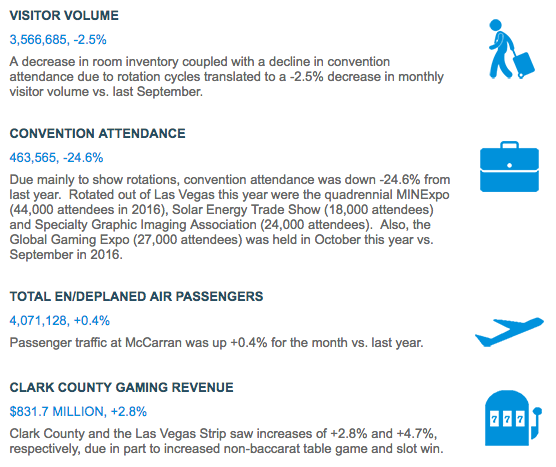 —
—