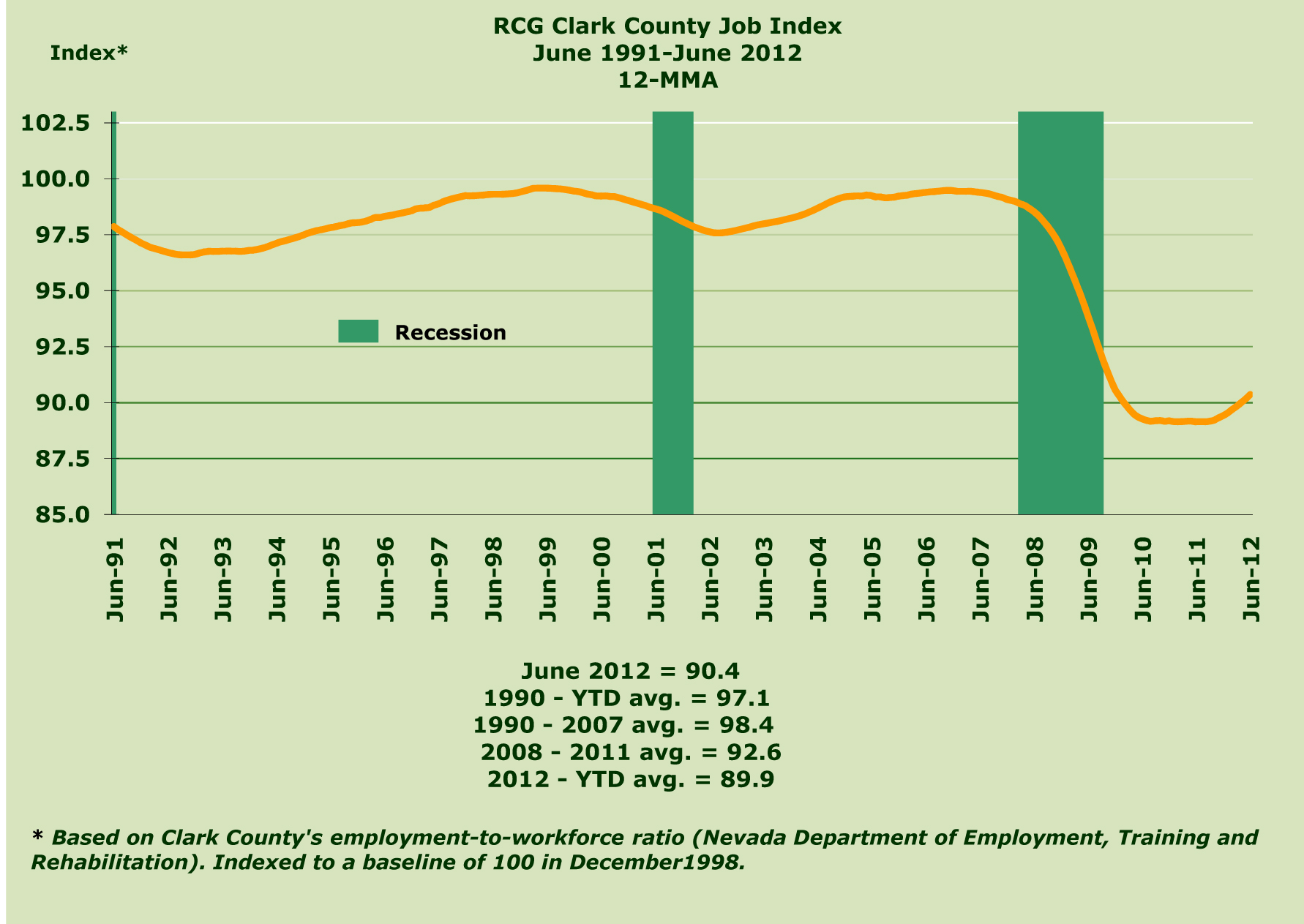 RCG's June 2012 (12-month moving average) Clark County (Nevada) Job Index of 90.4 showed a slight uptick from May's 90.2 (revised). Compared to June 2011's 12-month average of 89.1, the latest Index improved by 1.3 points. While the Index has slightly improved over the last 6 months, it's still largely the result of the local labor force falling rather than robust job growth. June jobs declined when compared to May (because of seasonality issues) but grew compared to June 2011.
In June, the Clark County's labor force shrank by -1.1% (-11,100) compared to June 2011, while employment grew by -1.5% (12,600) during the period. Based on the payroll survey, job growth continues to improve, with 7 sectors gaining workers and 4 sectors losing jobs when comparing the two months. The month-over-month picture was a bit mixed, largely because of seasonable government jobs. The May to June pictured showed: 6 sector losing jobs, 2 sector remaining even and 3 sectors gaining jobs. The largest year-over-year gain was in Leisure and Hospitality with 6,200 additional jobs and the largest loss was in Financial Activities with a loss of -2,300 jobs. The first 6 months of 2012 definitely performed better than first 6 months of 2011. The YTD average monthly job total was 861,533 in 2012 (Index: 89.9) compared to 855,867 in 2011 (Index: 89.2).
What all of this tells us is that the Clark County economy is improving moderately, and that a return to the pre-recession (1990-2007) average Index of 98.4 will take some time. Please visit www.rcg1.com or call John Restrepo at 702-967-3188 ext. 401 to learn more about our services.